I decided to dress up this Sunday since David and I would be serenading seniors at the nursing home. (We do this with our church once a month. David plays piano and I sing.)
I was really feeling myself in the mirror!
BTW that white mark is a smudge on the mirror,
Oops!



So this layered look is starts with a knit dress I got at Value Village. Here is the link to the thrift haul were the dress is featured. I really like its zig-zaggy print. Here is a similar dress. I transformed the dress into a skirt by putting a white shirt over top of it.
I belted the shirt with the same Anthropologie belt in my Casual Friday outfit and topped all of that with a 3/4 sleeve ruched Ponte blazer by Project Runway star Christian Siriano. (Get it here.)

The black mini backpack added a slight casual feel to the outfit to keep it from being too stuffy. I also chose to wear driving shoes rather than heels for the same reason.

What do you wear to church? Share a link to your church outfits, if have it, in the comment section below. Also what church ministries are you and your significant other involved in? Share below
Also, don't forget to subscribe to this blog for more Outfits of the Day.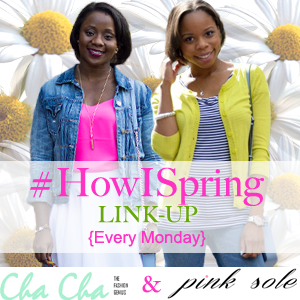 This post is featured in the #HowISpring Link Up